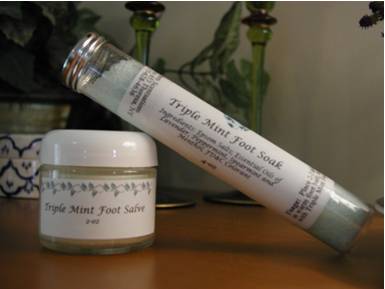 One of the most exciting successes this year has been our Triple Mint Natural Line. Blended with -- you guessed it -- three different types of mint herbs and essential oils, our treats are sure to refresh, energize and tingle your senses.
To Order Our Triple Mint Foot Soak, Click Below: Not Currently In Stock
To Order Triple Mint Foot Salve, Click Below:


Triple Mint Foot Soaks
Give yourself a mini spa vacation! After spending a day at the office on your feet, wearing hose and high heels in the hottest and most humid of weather, you deserve that goddess break. Our handcrafted Triple Mint Foot Soaks come in 4-ounce tubes (price: $2.50) and provide enough for several spa vacations. Ingredients: epsom salts and our famous Triple Mint Blend. **epsom salts a concern? Ask about our sea salt alternative; we provide them at no extra charge. Not Currently In Stock




Triple Mint Foot Salve
If we had to define our company by a single product, this salve would have to be our -- and our customers' -- choice. You won't be disappointed!
Time to revitalize those tired feet with our handcrafted Triple Mint Foot Salve. Give yourself a foot massage with our moisturizing and energizing salve and both your body and spirit will thank you for it (for even better results, have your partner give you that massage!). Top it off right before bedtime with a nice pair of cotton socks, and you'll have yourself an inexpensive way to smooth those rough heels, as well. Fantastic for use on hands and other rough-skin areas, as well. 2-ounce jars are priced at $5.00. Ingredients: Oils of Olive and Sesame with Shea and Cocoa Butters, Beeswax, Vitamin E and, of course, our famous Triple Mint Blend.