Cartier CAHR, Rescued Registered Arabian Gelding
Watch for him at the AHA Distance Horse Championships in 2006!
Mer-Astrot, Rescued Registered Arabian Gelding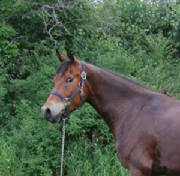 Breath-Taking Dressage and Driving Horse

After years of creating simple herbal home remedies for herself and family, Mary Golden broadened her interests to include candles and basic toiletry items in early to mid-1990's. Unable to use the chemical-laden cleansing products on the shelves of her local grocery and pharmacy, she decided to then delve into the world of soap making. It wasn't until 1999 that a friend and colleague pushed her into sales; before then, she had never even considered making her hobby a business. Now, several years later, Northern Scentsations has become a flourishing cottage industry. It is now not unusual to single-handedly produce and sell over 400 pounds of soap annually, as well almost 100 gallons of hand and body lotion. Products designed to alleviate dry skin are her specialty.
Mary currently resides on her horse farm in Northern New York with her husband, young daughter, seven horses, several cats and two Basset Hounds. When not in her studio, she raises, trains and competes with her Arabian Sport Horses, tends her gardens, wildcrafts the various herbs found on her 40-acre farm, and indulges in a variety of other pursuits.



Daughter Bridget with her Beloved Prezy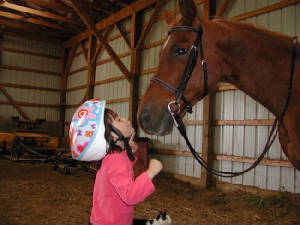 Prezy is a Registered Arabian that we rescued in 2003
Look at this handsome boy! He's not an Arabian...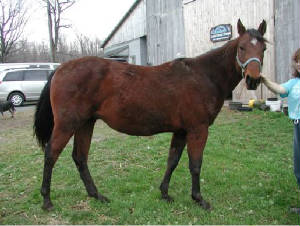 but we are fostering him for the county. He was a living skeleton, but you'd never know it now!