Our incredible spa products allow you to pamper yourself at home. Indulge in one of three scents guaranteed to give you the rest and relaxation you deserve:


MaryGold - our most popular scent - a soft, subtle floral that is a Northern Scentsations exclusive
Lavender - a classic that guarantees a relaxing day
Jallesia - our signature scent - new this year as a result of several customer requests!
MaryGold Spa Soap
A fantastic beginning to the ultimate home spa experience. Only $3.25 for almost a third-pound of soap
MaryGold - 3.5-4-ounces of moisturizing glycerin soap enhanced with skin-loving oils, calendula and our beautiful MaryGold fragrance.
Lavender - a qintessential classic you can't do without! Let the relaxing scent of lavender glycerin-enriched soap start you of on a relaxing spa vacation.
Add MaryGold Spa Lavender Soap to Cart
Jallesia - our most popular main line scent is introduced to our maryGold Spa line! Exotic citrus and floral notes come alive in a glycerin-enriched bar.
Add MaryGold Spa Jallesia Soap to Cart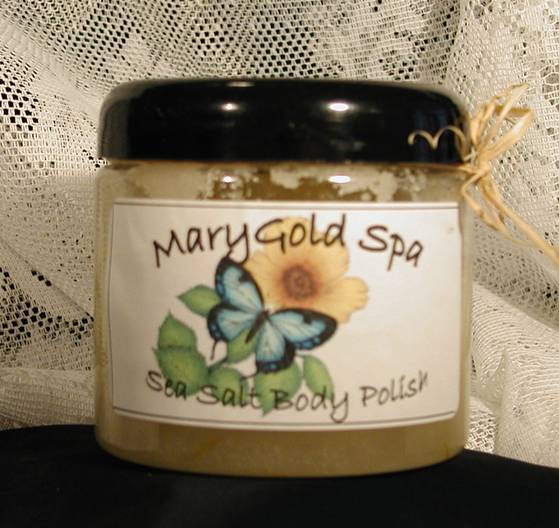 MaryGold Sea Salt Body Polish -Shower scrubs are all the rage once again, and now you can indulge in that luxury at a fraction of the price of the chain stores' offerings, but without the chemicals! Our sea salt scrub is combined with luxurious oils such as olive, sunflower and jojoba, with added vitamin E. No additional lotions needed after use! the Most popular new product of 2003. Don't go without it! Price: $15.00 for 20-ounces of scrub. Choose from our classic MaryGold fragrance with added calendula, or our other favorites -- Lavender (with real lavender buds and lavender essential oil) or Jallesia (also with added calendula).
Add MaryGold Body Polish to Cart
Add MaryGold Lavender Body Polish to Cart