Lavender Soap In Our Popular Chrysanthemum Mold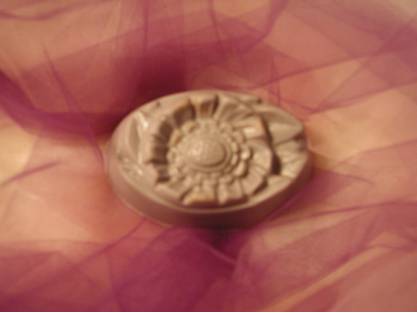 Soap is always an attention-grabber for customers. And Northern Scensations takes handcrafted soap one step further by presenting our products in beautifully molded shapes that are showpieces in any bathroom setting.
All soaps weigh between 3.5 and 4-ounces and come wrapped in cello bags with coordinating tulle. When shipped, soaps will be presented in a variety of molds for your customer's choice. Price: $2.00 each (suggested retail $3.50-$4.00, depending on your region). The following fragrances are onces that have always been best sellers for us -- and we'd like to pass along their popularity to you.
Sable Soap Shown In Our Three Popular Molds
Chrysanthemum, Celtic Square and Bee and Flower





Ingredients Listing:
Cocos Nucifera (Coconut) Oil, Elaeis Guineensis (Palm) Oil, Ricinus Communis (Castor) Seed Oil, Carthamus Tinctorius (Safflower) Seed Oil, Glycerin (humectant), Water, Sodium Hydroxide (saponifying agent), Sorbitol (humectant), Sorbitan Oleate (skin conditioner), Glycine Soja (Soybean) Protein (conditioner), perhaps Titanium Dioxide (to make certain bars opaque), colorant and fragrance. No harsh chemicals. No animal fats (yes, if you look closely enough on your commercial labels, you will see 'tallow' or 'sodium tallowate' listed on many of them). No Crisco shortening (a number of soapmakers use this as a base ingredient due to its inexpensive nature; personally, we find the soap unsatisfying).

Adirondack Weekend (tm) -- a popular unisex scent; balsam fir with a touch of cranberry; translucent

Crisp Citrus (tm) -- enticing fruity floral blend; perfect for summer; translucent

Diosa (tm) -- the scent of goddesses! A light floral scent with a background of rain. Deliciosa! translucent

Heather and Hyacinth - this year's runaway bestseller is offered on the internet only to our wholesale customers; fresh green floral notes of the heather and hyacinth flowers; translucent

Hydrangea - an intriguing blend of hydrangea, lily and other floral scents; subtle and sophisticated; translucent

Hawthorne and Dogwood -- another wonderful unisex scent; deep and musky, this is definitely reminiscent of the backwoods; opaque






Jallesia (tm) -- our signature scent...and one you won't find anywhere else because we have it blended specially for us; exotic florals and spices with touches of citrus --- this scent is downright sexy! opaque

Lavender - always a classic; opaque

Mountain Spring (tm) -- fresh, clean and outdoorsy with no pine or fir notes; definitely unisex; opaque

Nature's Essence (tm) - our own green-smelling handblend of lavender, sweetgrass, patchouli, and....; translucent

Plumeria -- fruity sweet or definitely floral? We think it's a combination of the two! A beautiful tropical floral scent; translucent

Sable -- a warm sulty blend of sandalwood, vanilla, and something a little extra special; translucent

Sunflower -- not like the Elizabeth Arden perfume; this smells like the real thing! opaque

Sweet Earth -- a winner every time! A haunting, beautiful blend of vanilla, lavender and patchouli; opaque

We Three Kings -- a blend of frankincense and myrrh create the base of this scent; a favorite with many customers, it's definitely not just for Christmas time! opaque